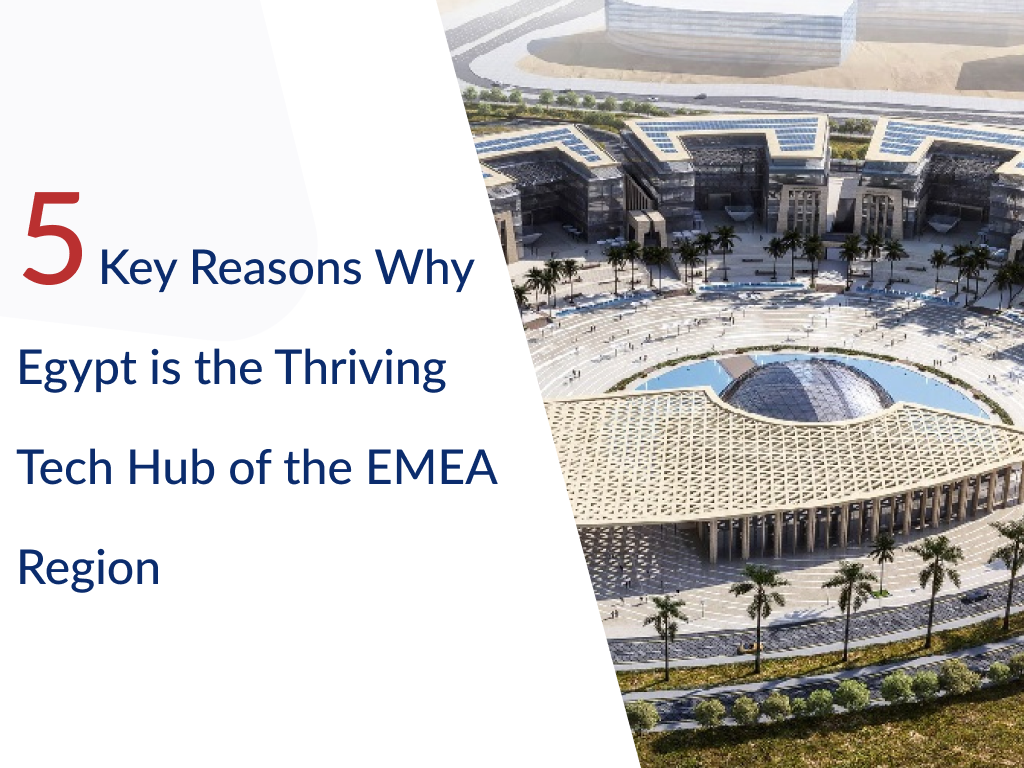 Egypt – A Rapidly Expanding Offshore Services Market Footprint and Thriving Tech Hub
As a resilient and renowned tech hub in the region, Egypt has steadily evolved over the past years, putting in significant work since the early 2000s to achieve swift development. Consequently, it is now not only perceived as a dependable associate for the European market but also for markets such as the US, Africa, and the Middle East.
A unique mix of factors is behind putting Egypt on the track to become a major tech hub in EMEA, boosting the country's ranking in the World Bank's 'Ease of Doing Business' Report 2018, and ranking as the 4th most favored offshore location for 2021. (Ryan Strategic Advisory 2021). And, all efforts have paid off as Egypt's digital exports grew from $4.1B (in 2019/2020) to $4.5B (in 2020-2021).
1. Pivotal, Strategic Location
Located at the heart of EMEA, Egypt can provide competitively high-value services and technology to the rest of the world. Egypt has been rapidly emerging as a renowned tech hub due to its strategic location and proximity to EMEA in terms of geography and time zone as it is located at the heart of the worldwide cables network, hence Egypt can provide offshore cloud services with the lowest latencies.
Following the Central European Time, it makes Egypt only three hours away from the furthest time zones on both heavily populated continents which has helped Egypt emerge as a rapidly-growing tech hub.
Furthermore, one of the other prominent contributors to building a major hub of business and technology in Egypt is the similar CET zone which guarantees business continuity with the US and Asia.
2. Highly-educated, Abundant, Skilled Talent Pool
Having staggering demographics of a 100+ million population, with over 60% Egyptians below the age of 30 and just around 5% over 65, Egypt is considered one of the most youthful populations in the world.
The talent pool is one of the key ingredients to Egypt's very unique position amongst the global BSS destinations.
Yearly, approximately 330,000 students in business process services-related fields and around 50,000 students in IT-related fields graduate from reputable universities and institutes. These graduates are well-equipped to deliver advanced processes and knowledge services in over 20 languages with neutral accents, effectively transcending any language barriers that may exist.
3. Strong Language Skills
Egyptians possess strong language skills, making them highly competitive in the global market. The education system in Egypt emphasizes language learning, resulting in a multilingual workforce proficient in various languages. English is widely taught in schools and universities, and many Egyptians are fluent in the language, which enhances their ability to communicate and collaborate with international partners. Additionally, Egypt's strategic location and historical ties have contributed to the development of language skills in other important languages.
According to the Ministry of Communications and Information Technology, Egypt's talent pool is capable of delivering advanced processes and knowledge services in over 20 languages, transcending language barriers, and facilitating business interactions with clients and partners from around the world. The linguistic diversity and proficiency of Egyptians contribute to the country's attractiveness as a global outsourcing and offshoring destination, allowing businesses to access a wide range of markets and serve diverse customer bases.
4. Supportive Government and Heavy Investment in Information Technology
Owing to the government's heavy focus on technical education, academic curricula are steadily being adapted and altered to create a resource pool with market-driven skills and to boost the skills ecosystems on emerging technologies.
Continuous investments have been made to develop local and physical infrastructure to provide better utilities and telecommunications connectivity to offshoring companies, aiming at positioning Egypt as a 'Digital Canal'.
The supportive ecosystem goes beyond government initiatives as there are many organizations, incubators, and accelerators that provide mentorship, funding, and networking opportunities to startups. Events such as tech conferences, hackathons, and pitch competitions are organized regularly, fostering collaboration and innovation within the tech community.
5. Fast-Paced Economy
Egypt's economy has been experiencing rapid growth, positioning itself as a promising destination for investment and business opportunities. According to the latest studies, Egypt's GDP grew by 5.6% in the fiscal year 2020/2021, despite the challenges posed by the global pandemic.
This growth is most likely fueled by various sectors, including technology and innovation, which have undoubtedly played a significant role in the country's economic development. The contribution of the tech sector to Egypt's economy is evident in the increasing digital exports, which reached $4.5 billion in 2020-2021, a notable increase from $4.1 billion in the preceding year as per the Ministry of Communications and Information Technology.
These statistics show the fast-paced nature of Egypt's economy, showcasing its resilience and potential for further growth in the tech industry and beyond.
Companies Choosing Egypt: A Highly-Preferred Tech Hub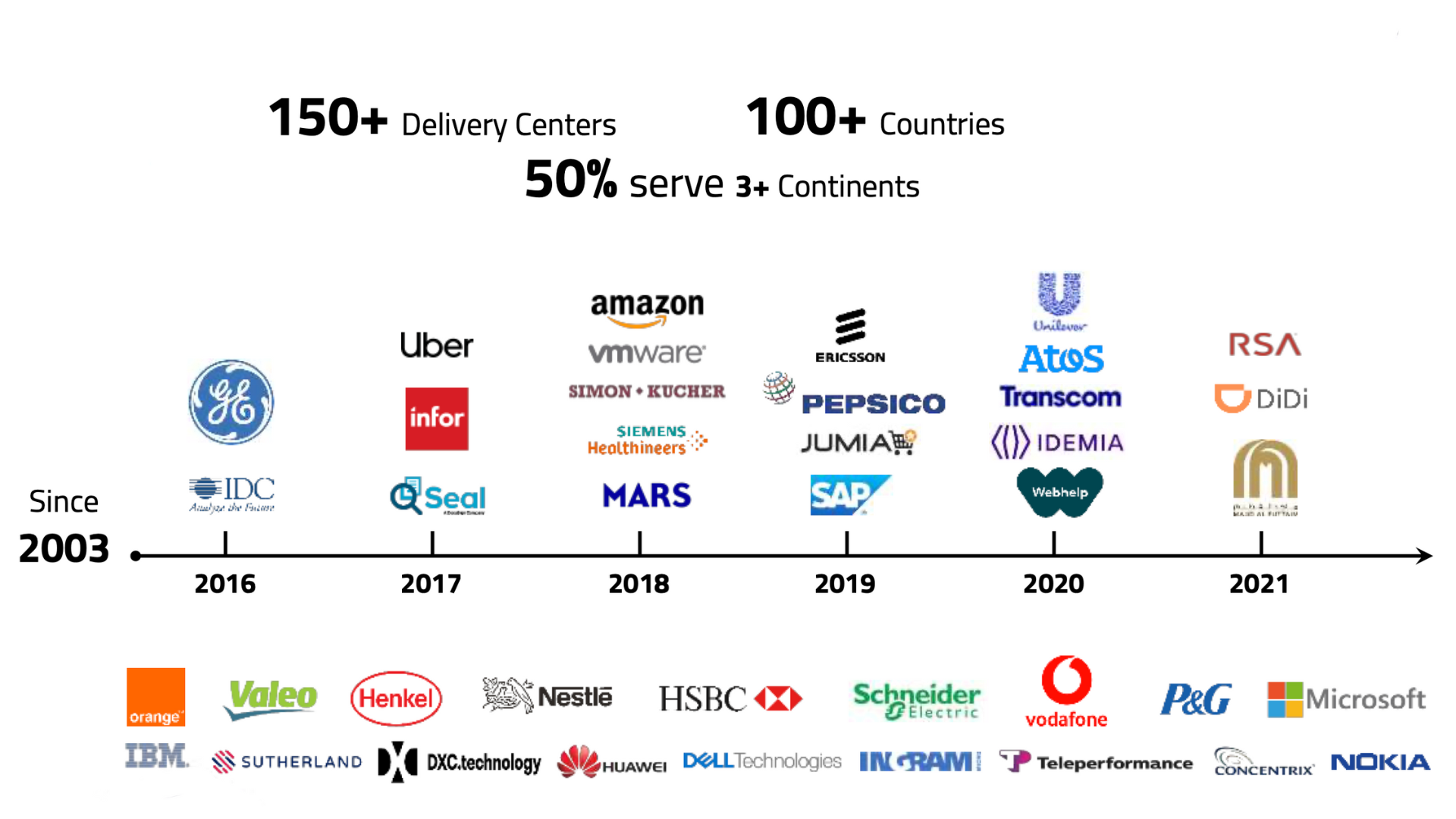 Egypt has increasingly become an attractive choice for renowned companies to establish their operating headquarters, including industry giants like Microsoft and many others. These companies recognize the immense potential and advantages that Egypt offers as a strategic location for their operations.
The country's thriving tech ecosystem, skilled talent pool, supportive government initiatives, and favorable business environment have played a significant role in attracting these companies.
By setting up their headquarters in Egypt, these companies gain access to a highly educated workforce, diverse market opportunities, and a favorable investment climate. Additionally, Egypt's strategic location at the crossroads of Africa, the Middle East, and Europe provides a gateway to these regions, allowing companies to expand their reach and serve a broader customer base.
The presence of major companies in Egypt further strengthens the country's position as a leading tech hub in the region and encourages further growth and innovation in the local tech ecosystem. In the photo below, you can see the logos of prominent companies that have established their presence in Egypt, including Microsoft, Google, IBM, and more.
These companies have expressed their satisfaction with choosing Egypt as a base for their operations, citing the country's thriving tech ecosystem, skilled workforce, and strategic location as key factors contributing to their success.
Wrap-up
In conclusion, Egypt's emergence as a thriving tech hub in the EMEA region is backed by compelling reasons that make it an attractive destination for businesses seeking offshore services and investment opportunities. The strategic location at the heart of EMEA, abundant and skilled talent pool, strong language skills, supportive government initiatives, and a fast-paced economy all contribute to Egypt's rapid growth and success in the tech industry.
With renowned companies like Microsoft choosing Egypt as their operating headquarters, the country's reputation as a preferred destination for tech operations is solidified. As Egypt continues to invest in its infrastructure, education, and innovation ecosystem, it is poised to further strengthen its position as a leading tech hub, driving economic growth, fostering collaboration, and serving as a gateway to diverse markets.
With its unique blend of advantages, Egypt presents a promising landscape for businesses to thrive and tap into the vast potential of the region's booming tech sector.
Ready to leverage Egypt's booming tech hub? Partner with Pharos Solutions' expert remote teams for seamless outstaffing solutions and stay ahead in the EMEA region's competitive tech landscape. Maximize your potential today!