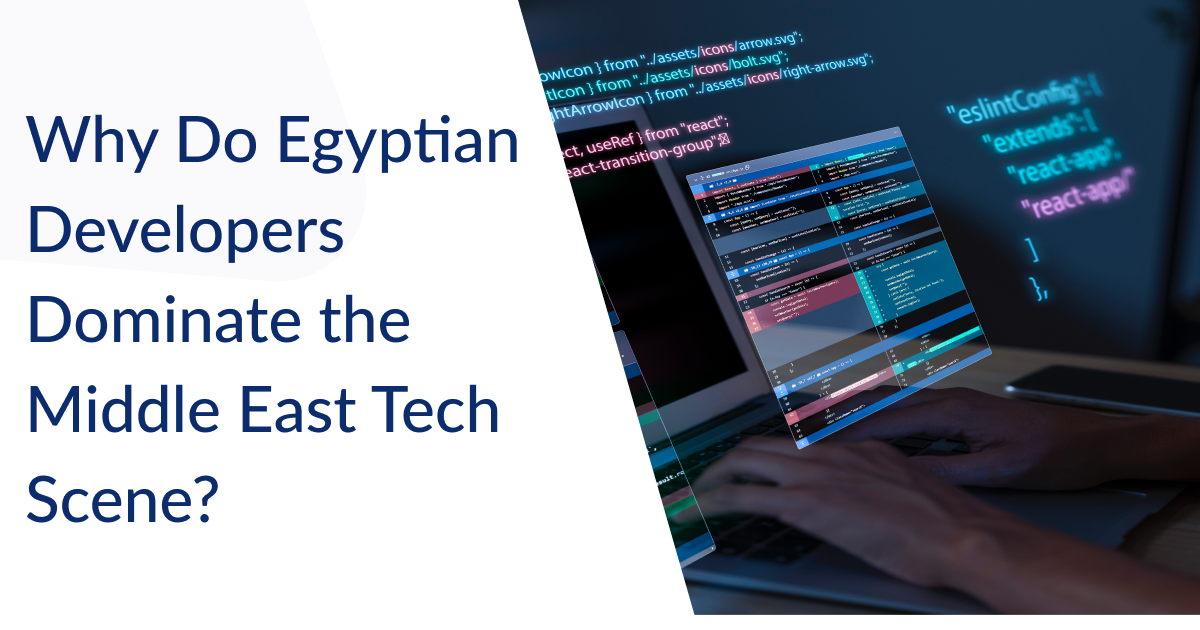 10 Reasons Why Egyptian Developers Are the Best in the Middle East
Egyptian developers have made a significant impact on the software development industry in the Middle East. Their skills, expertise, and dedication have earned them a reputation as some of the region's best developers. According to Statista, a survey conducted from 2019 to 2021, with forecasts for 2022, projected that total spending on enterprise software in the Middle East and North Africa would reach approximately 9.6 billion U.S. dollars in 2022, compared to around 8.05 billion U.S. dollars in 2020.
This upward trend in investment in enterprise software reflects the growing importance of the software development industry in the region.
Thriving Tech Hubs
Egypt is rapidly establishing itself as a thriving tech hub in the Middle East. The country boasts several technology parks and innovation centers, such as the Smart Village in Cairo, which provide state-of-the-art infrastructure and resources for tech companies and startups. These hubs foster creativity, entrepreneurship, and technological advancements, making Egypt an ideal destination for businesses looking to tap into the Middle East's growing tech market.
Global Partnerships
Egyptian developers are not limited to working within their borders. They actively seek global partnerships and collaborations. Many tech companies from Europe, North America, and Asia have recognized the potential of Egyptian IT talent and have established partnerships with local development firms. This cross-border collaboration not only bolsters Egypt's reputation as a tech hub but also exposes Egyptian developers to international best practices and standards. Now, what motivates prominent corporations such as Intel, Dell, Microsoft, and others to opt for Egypt and its pool of talented Egyptian developers?
1. Exceptional Technical Skills
Egyptian developers are known for their exceptional technical skills. They undergo rigorous training programs and education to equip themselves with the latest technologies and programming languages. This expertise enables them to tackle complex software projects with ease and deliver high-quality solutions.
2. Strong Educational Background
Egypt has a robust education system that emphasizes technical fields, including computer science and software engineering. Egyptian developers benefit from this strong educational foundation, which prepares them to excel in the software development industry.
3. Cultural Adaptability
Egyptian developers possess excellent cultural adaptability, allowing them to work effectively with clients and teams from diverse backgrounds. This adaptability helps them understand the needs and preferences of their clients, resulting in better collaboration and successful project outcomes.
4. Cost-Effectiveness
Egyptian developers offer cost-effective solutions without compromising on quality. Compared to developers from other regions, Egyptian developers provide competitive pricing, making them an attractive choice for businesses looking to optimize their development budgets.
5. Multilingual Proficiency
Egyptian developers are known for their multilingual proficiency. Many of them are fluent in English, Arabic, and other languages, which facilitates effective communication with clients and stakeholders from different parts of the world.
6. Strong Problem-Solving Abilities
Egyptian developers excel in problem-solving. They possess analytical thinking skills and can quickly identify and resolve complex software issues. Their ability to find innovative solutions to challenges contributes to their reputation as top developers in the Middle East.
7. Dedication and Work Ethic
Egyptian developers are highly dedicated and have a strong work ethic. They are committed to delivering projects on time and meeting the client's expectations. Their perseverance and determination ensure the successful completion of software development projects.
8. Collaborative Team Players
Egyptian developers thrive in team environments. They value collaboration and are skilled at working together with other developers, designers, and stakeholders. This collaborative spirit fosters a positive work atmosphere and enhances the overall productivity of the team.
9. Honest Feedback Culture

Egyptian developers stand out for their commitment to fostering a culture of honest feedback. In contrast to certain countries where criticism can be taken personally, Egypt embraces open and constructive communication. This culture promotes transparent collaboration, trust-building, and continuous improvement, making Egyptian developers a reliable choice.
10. Growing Tech Community
Egypt has a rapidly growing tech community that encourages knowledge sharing, innovation, and collaboration. Egyptian developers actively participate in conferences, workshops, and hackathons, fostering continuous learning and pushing the boundaries of software development.
Conclusion
In conclusion, Egyptian developers have earned their reputation as the best in the Middle East due to their exceptional technical skills, strong educational background, cultural adaptability, cost-effectiveness, multilingual proficiency, problem-solving abilities, dedication, collaborative nature, attention to detail, and active participation in the growing tech community. If you're looking for top-notch software development services, Egyptian developers are undoubtedly a wise choice. Their expertise and commitment will ensure the success of your projects.
Unlock your business's true potential and take it to new heights with Egyptian software developers. At Pharos Solutions, we offer expert application development, staff augmentation, and outstaffing services to leverage their exceptional skills for your success.